This post by RCA President Colin Mills was originally published in Reston Patch.
As RCA president, I've seen and done a lot of unique and exciting things. On Saturday, I had one of my coolest experiences yet, as a delegation of RCA members and I visited one of Reston's hidden gems. You've probably never heard of it, but it's a place that exemplifies Reston's spirit of creativity and experimentation. It's called Nova Labs, and I think it's a dream come true.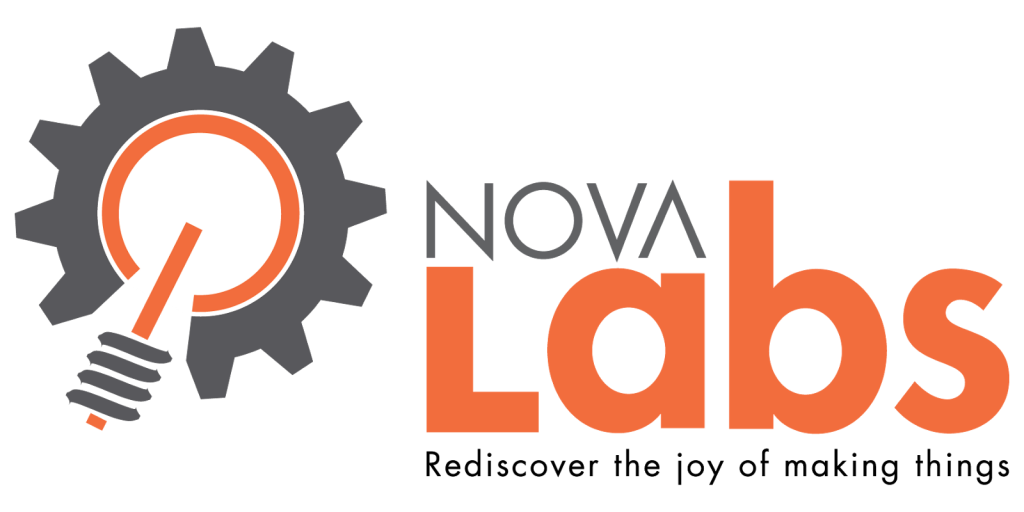 Nova Labs describes itself as a "makerspace." What's that? Think of it as a clubhouse for creative types. It provides people with a space to build things, kind of like a garage or a basement workshop. But Nova Labs offers two key advantages that a basement or garage doesn't. For one thing, Nova Labs is stocked with an amazing array of tools that no one would have the space or money to maintain at home. Second, Nova Labs gives you the chance to interact with other makers. You can collaborate, learn how to do new things, and share ideas with like-minded folks. It's an incubator for creation, and a chance to go beyond what you could do on your own.
I first heard of Nova Labs from RCA Board member Gary Thomas. He had visited with his son, and he kept telling me that RCA needed to check it out. So we arranged to tour the facility with Brian Jacoby, President of Nova Labs. We met at the unassuming storefront where the facility is located, tucked away near the Wiehle Metro station.
Brian explained to us how Nova Labs got started. A couple years ago, 12 friends who liked to build things kept talking about how they wished they had a space where they could work outside of the house. The more they talked about it, the more they wanted it to exist, until (in Brian's words) they "double dared each other to do it." And then they did it. Talk about an inventive spirit!
I could tell from the moment we met that Brian was excited to show us the facility. As soon as he took us inside, I could see why.
If you're a creative type, walking into Nova Labs is like walking into a toy store. Just being there filled me with inspiration to experiment and invent. Once inside, Brian pointed out a light switch on the wall, inside a Plexiglas box containing some wiring. I thought it was neat-looking. But Brian explained that it was more than a light switch. When a member flips the switch, it updates the Nova Labs Web site and Twitter feed to let people know the facility is open to visit. How cool is that?
Brian took us around the different areas in the facility. He showed us the metalworking shop, the newly expanded woodshop, the classroom space, and the open tables for people to work on their projects. And he showed up the cool tools that Nova Labs has to offer. All of the their tools were either donated by sponsors or provided by members who owned the tools but didn't have the space or the time to really get the use out of them. They have drill presses, table saws, CNCs (which allow you to do three-dimensional cutting), laser cutters, and more. (They also have safety and usage classes, so that people learn how to operate the machines responsibly.)
Perhaps my favorite tools at Nova Labs are the 3-D printers. You might have heard of this new technology; you might have even seen the demo that Nova Labs did at Reston Regional last year. If you're not familiar, 3-D printing allows you to use an extruded material (plastic or metal or other things) to make three-dimensional objects using digital models. They're used to make things from gears to clocks to jewelry to auto parts.
Brian showed us a couple of 3-D printers, and they were much smaller than I expected; you could lift one with one hand. Nova Labs received their first 3-D printer as a donation from a sponsor; they then used it to make parts to build new printers! Currently, there's a group of 25 folks at Nova Labs who are making their own printers.
As soon as we left Nova Labs, our RCA delegation was talking about how we could work with them. We've come up with possibilities. Nova Labs is planning to hold a Maker Faire in 2014, and we are thinking of working with them to make it happen. Our Education Task Force looks at Nova Labs as a model for how hands-on learning might work in their Academic Village. (Nova Labs offers classes and education opportunities aimed at kids, to foster their love of science, technology, and creativity.) And since Nova Labs' current facility is likely to be replaced within the next few years by Metro-related development, we're on the lookout for a permanent home for them.
Reston has always been a creative community. We owe our very existence to Bob Simon's desire to experiment and build a new kind of community, a place that was quite different from a typical suburb. Citizen groups like RCA built on that creative spirit, launching experiments like chartering a commuter bus service and pioneering a more active concept of "getting involved" in the community.
Now that we've matured and built out, there are fewer opportunities for community-wide creativity and experimentation. Projects like the Initiative for Public Art – Reston (IPAR) keep the spirit alive. But we need other outlets for the dreamers and the creators. Nova Labs is a perfect playground for people to create, to innovate, and to experiment.
Nova Labs provides a workspace and a community for people who like to make things. It's open to inventors, programmers, electronics wizards, artists, crafters, or anyone who is interested in technology and creation. Places like this can help Reston maintain its reputation as a hotbed of creativity and experimentation. The next generation of Thomas Edisons, Bill Gateses, and Steve Jobses are getting their start right here.
I hope this post has inspired you to visit the Nova Labs website or, better yet, visit their facility to learn more. And I hope that Reston continues to foster places like Nova Labs, to keep our reputation as an innovative and creative community alive.