by Robin Hogan, Chair
RCA Citizen of the Year Committee
Decades of Community Leadership Resulting in a Better Reston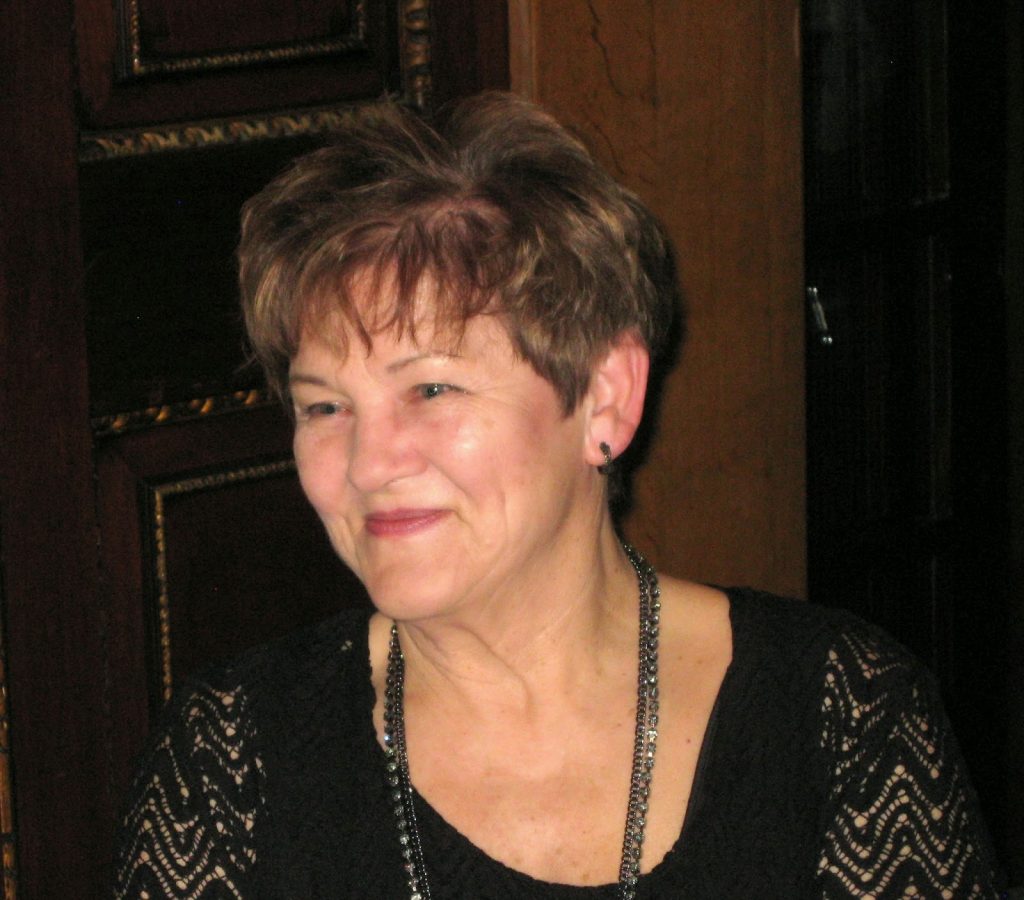 Photo Courtesy Marion Stillson
Vision, compassion, a positive outlook and future thinking – these are but a few of the words that apply to any introduction of Marion Stillson, RCA's 2014 Reston Citizen of the Year.
Martin Chemers wrote, "leadership is a process of social influence in which one person is able to enlist the aid and support of others in the accomplishment of a common task." Reston Citizens Association's (RCA) 2014 Reston Citizen of the Year, Marion Stillson has generously shared her leadership with our community for over 40 years.
The Board at RCA, the Reston community at large and the many other community organizations and causes that Marion has founded, led, prodded, supported and impacted are proud that we can honor her good works – applied locally, throughout the Commonwealth of Virginia, as well as across the entire United States and internationally.
If you've not had the great pleasure to make Marion's acquaintance, take a few minutes to learn more about her vision, drive and compassion, then take time starting at 7 p.m. on April 16, 2015 to recognize her contributions by joining national, state and local dignitaries, fellow community activists, friends and family for the RCA Reston Citizen of the Year Award Ceremony & Reception at Reston Community Center Hunters Woods (click
here
to learn more and register for this free event).
Marion Stillson has served the community in so many ways; I've had to organize this article into sections in order to provide comprehensive coverage.
First, near and dear to all of our hearts, is Marion's impact on and for Reston:
Marion and her husband Dick arrived, as Marion says, "by chance" in the Reston area in 1973. Take a moment and think how different this area was at the time. The Dulles Access Road was under construction, Hunters Woods Shopping Center had just been developed, and the area between Hunters Woods and Lake Anne was not yet built out. A very different Reston from today (the population was just about 1/3 of today's, according to some sources), but this was a community strong with individuals like Marion, who had a heart for issues beyond regular self-interest and wanted to grow a new town and community that was inclusive to all while creating an infrastructure that looked out for those in need of support – be it a nursery school, a bus ride downtown or accessible shopping, living and working.
In October 1980, Marion was selected to one of the first Reston Community Center's Board of Governors and was requested to provide input on the accessibility of the Hunters Woods RCC, which she joyfully provided and to this day, is pleased that her successful efforts continue to be enjoyed by the many individuals who visit RCC each year. During this same time period, Marion had 21 articles and reviews published in The Washington Post, other newspapers and periodicals (all while busy raising two young children). She also became very active in the Reston-Herndon Branch of the American Association of University Women (AAUW), serving as President from 1981-1983. Her focus broadened beyond Reston, including earning her law degree at Georgetown in 1987 and increasing her AAUW works to a statewide, national and international level. This kept Marion pretty busy, but her eyes remained on her prize, her now long-term home, Reston.
In 2006 Marion increased her community work in Reston. The originally modest new community now had over 50,000 residents and the Silver Line Metro was on its way. Marion was recruited back to "active duty" by then RCA President Mike Corrigan, and was highly active in the ResTown campaign, garnering thousands of petition signatures (by hand, no online petition services were around at that time), organizing rallies, presenting public briefings and appearing on local television, newspaper features and preparing letters to the editor. The ResTown campaign was supported by Bob Simon but was not ultimately successful, though there are some who see the current changes being wrought upon us and long for a way where Restonians can have greater control over our own destiny.
Marion was elected Vice-President of RCA in 2009 and President in 2010 and served our community in that role over two terms. During that time, she again displayed the capabilities that Chemers wrote of by setting in place three very important Reston initiatives:
Reston Accessibility Committee (RAC), created by Marion and established by Ken Fredgren. There is a need to ensure that local businesses provide access to retail, office and public amenity locations in keeping with the Reston founding principle that "the importance and dignity of each individual be the focal point for all planning, and take precedence for large-scale concepts." RAC partners with local owners and property managers to improve access for persons with mobility impairments. RAC was honored by the Fairfax County Board of Supervisors with the 2013 Community Partnership Award.
Reston 2020 Committee (2020), created by Marion and several others, first led by her, then her husband, Dick. This Committee is driven by the need to ensure adequate local citizen representation during the Reston Master Plan Special Study (RMP) which began in December, 2010, 2020 committee members attended over 200 RMP Phase I task force and community meetings and hearings, looking to ensure that Reston citizens' interests were not trumped by powerful development interests and that the updated Reston Master Plan stayed true to the founding concepts of Reston. 2020 continues its work as an independent committee of RCA dedicated to sustaining Reston's quality of life through excellence in community planning.
Sustainable Reston Initiative, created to raise awareness of the need to address the effects on the Reston community of peak oil, global climate change and economic disruption. After three years as an initiative of RCA, Sustainable Reston spun into an independent organization and is now part of the Fairfax Coalition for Smarter Growth.
Marion's additional Reston activities and honors include:
Named Grant Award, Reston-Herndon AAUW, 2000
Appointee, Wiehle Avenue Steering Committee, 2004 (appointment by Supervisor Catherine Hudgins)
Precinct Captain, Hunter Mill District Democratic Committee, 2006+
Appointee, Hunter Mill District Budget Committee, 2011 & 2012 (appointment by Supervisor Catherine Hudgins)
Fairfax County Election Officer, 2011-present
But wait, there's more – Marion's compassion and quest for equity has driven her to take action on the Fairfax County and Virginia-wide, National and International levels. Later in this post you will find a listing of her additional honors and activities.
For now, let's find out more about how Marion Stillson's chance move to Reston took shape. Like so many of us who now live in the area, Marion grew up elsewhere – in the U.K., perhaps a bit further away from Reston than many. After receiving her Bachelor of Social Administration (with First Class Honors) at the University of Birmingham, England (where she first learned of Reston, VA!), Marion moved to the U.S. with her husband, Dick Stillson, as he pursued his PhD in Economics at Stanford. While living in California, Marion was in a life altering accident that requires her to use a wheelchair, which influenced her decades-long drive for better accessibility in public establishments and for visitability in home design.
While raising two children, Marion also worked as a lobbyist from 1979 to 1983 for the American Association of University Women (AAUW), an organization she remains active in to this day.
Her drive to help others in need of assistance so they could gain fair and equitable outcomes went into full gear while she earned her law degree at Georgetown University. What better place to promote change than through the lawful exercise of citizens' rights? Marion worked as a Clinical Representative at the Center for Applied Legal Studies in 1985, representing clients and negotiating consumer protection settlements. Marion then worked as an intern for the National Legal Aid and Defender Association, researching and writing the first comprehensive national standards for the administration of assigned counsel program.
Marion was admitted to the Pennsylvania Bar in 1987 and the D.C. Bar in 1988 and pursued her post-graduate professional career by representing organizations dedicated to social causes, and staying true to her convictions while undertaking litigation that some may view as controversial. As Staff Attorney for NARAL, Marion wrote a United States Supreme Court amicus brief in support of the respondents, wrote Official Comments opposing Title X regulation changes, and wrote significant portions of NARAL's anti-Bork manifesto.
In 1988, Marion joined the National Labor Relations Board, serving as Staff Counsel. In that role, she advised the Chairman of the Board and unfair labor practice and representation issues, drafted published decisions and internal memoranda, represented the Chairman on preliminary adjudicative panels and reviewed appeals from the decisions and orders of regional directors and administrative law judges.
As Director, Criminal Justice Advocacy Project for the DC Coalition Against Domestic Violence from 1991-2, Marion directed the legal advocacy program to implement new mandatory arrest law; selected, trained and supervised volunteer advocates; managed advocates' 65 cases and initiated all programs and procedures, as first staffer for this non-profit.
From 1993 to 2001, Marion acted as Attorney/Counselor/Mediator for the Architect of the Capitol Fair Employment Practices Office. During her tenure, she: received and evaluated issues raised by employees, including perceptions of improper conduct, unfair treatment and employment discrimination; conducted highly sensitive inquiries; counseled management and employees to achieve voluntary, negotiated resolutions, including use of caucus-style mediation; assisted in developing and administering programs involving complex issues of first impression to the Agency and explored alternative approaches to resolve employment problems.
Marion Stillson exemplifies the qualities of the true community leader that she is. Her volunteerism, career choices, dedication to family and others, sunny demeanor and visionary acts made her this year's honoree as Reston Citizen of the Year. Her works should inspire all of us to do at least 25% of what she has done to support the community of Reston that we all call home.
Marion Stillson Additional Activities and Honors
At the Fairfax County-level, Marion's activities include:
Appointee, Bi-Partisan Election Improvement Commission, 2013 (appointment by Chairman Sharon Bulova)
Appointee, Election and Voter Protection Committee, Fairfax County Democrats (ongoing)
Virginia Level Activities:
State President, Virginia AAUW, 1994-1996 (official visits to Branches in Arlington, Alexandria, Bedford, Chesterfield, Fairfax, Fredericksburg, Great Falls, Harrisonburg, Manassas, McLean, Mt. Vernon, Norton, Radford, Richmond, Roanoke, Staunton and Vienna)
Virginia Women's Political Caucus, Democratic Task Force Chair
Virginia Women's Network, Disabled Women's Coordinator
President, Make Women Count PAC, 1998-1999
LEAP Award, Virginia AAUW
Resolutions Committee, Democratic Party of Virginia
Don Beyer for Governor, Co-Chair, Virginians with Disabilities, 1997
Howard Dean for President, Team Leader for Virginians with Disabilities, 2004
Elected to the Board of Governors of ACLU – Virginia, 2015
National Level Activities:
AAUW Capitol Hill Lobby Corps, 1978-1983
AAUW Diversity Trainer, 1990-1992
AAUW Resolutions Committee, 1992-1994
Chair, AAUW Resolutions Committee, 1994-1996
AAUW National Board of Directors, Director of Public Policy (contested elections), 1998-2002 (official visits in various national capacities to state AAUW's in Alabama, Arizona, California, Delaware, Kentucky, Mississippi, Ohio, West Virginia and Wyoming)
International Level Activities:
AAUW Delegate, International Federation of University Women (IFUW) Convention, Graz, Austria, 1998
Member, Minutes Committee, IFUW Convention, Graz, Austria, 1998