Should Reston's Transit Station Area's residential and commercial residents pay an additional tax to support transportation development and improvements? The county is considering this as a way to fund more than $2.2 billion over the next 40 years.
BACKGROUND
In 2014 the the Comprehensive Plan was amended and a motion adopted that directed staff to "conduct a detailed evaluation and operational analysis of the enhanced street network shown on the Reston Master Plan, prioritize these improvements and develop an implementation strategy" as well as to "prepare a funding plan for transportation improvements that would include public financing and private investment." Private funding could mean proffers, contributions to a road fund (per sf/per dwelling unit) based on new residential and commercial development, in-kind contributions or by establishing a tax or service district.
In April 2016 eighty-six percent of surveyed Reston residents stated they would not be willing to pay an additional tax based on the value of their property that would only be used to fund transportation improvements.
However, all the proposals being put forward suggest residential road fund contributions and a tax service district, similar to the
one in Tysons
. A service district is a mechanism for funding that is established by the Board of Supervisors, without a public vote, to fund improvements within a defined geographic area.
CURRENT TAXES, ASSESSMENTS AND DUES
If you live in Reston you pay Fairfax County and Virginia taxes as well as a supplemental tax to fund the Reston Community Center by way of
Small Tax District 5
. Most Restonians pay an assessment to a master HOA whether it be Reston Association, Reston Town Center Association or Deepwood HOA. As Hunter Mill Supervisor Hudgins has stated, "I always caution people: To live in Reston, you have to pay for a lot of things."
CURRENT TRANSPORTATION TAX PROPOSALS
Beginning on slide 12 you can see the final 3 scenarios under consideration.
They all include a service district tax on residential & commercial property owners within the TSA.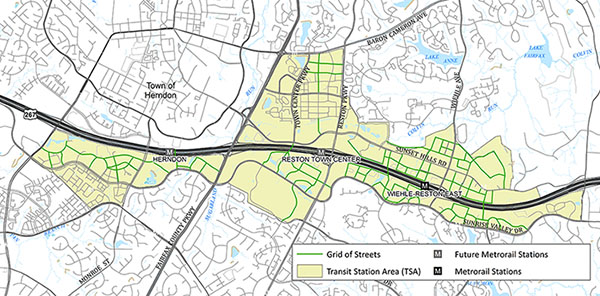 Proposed Transportation Service District Tax will affect all residential & commercial property owners highlighted in yellow.
Your input on this matter is essential.
The Board of Supervisors plans to approve a funding plan for Reston transportation improvements by the end of 2016.
The next and final Community Meeting
for the Reston Network Analysis and associated Funding Plan
will be held Monday, Nov. 7, 2016, 7 p.m.,
in the lecture hall at
South Lakes High School,
11400 South Lakes Drive
, Reston.
Informational links