FOR IMMEDIATE RELEASE
Reston Citizens Association hosts meeting with We Are Golf Executive Director Steve Mona ahead of National Golf Day
May 7, 2019 – Representatives from WE ARE GOLF, a coalition of golf's leading organizations, converged in Washington, DC last week to celebrate National Golf Day and the many benefits that golf contributes to communities and individuals. Prior to the National Golf Day celebration, Executive Director Steve Mona met with representatives from Reston Citizens Association, Rescue Reston and Reston Association to discuss the vibrance of golf in Reston's community and the unprecedented attacks by developers that our two golf courses are facing.
Connie Hartke, President of Rescue Reston provided an overview of Rescue Reston's success to date in fending off attempts to develop Reston National (the south course), citing community efforts that extend beyond Reston for this very popular public course. Rescue Reston's co-founder John Pinkman described the early days of mobilizing this grassroots campaign. Ms. Hartke shared recent collaboration with Bardmoor Golf & Tennis Club in Pinellas County, Florida. That community is fighting a battle with the same developer who wants to put housing on Hidden Creek (Reston's north course.)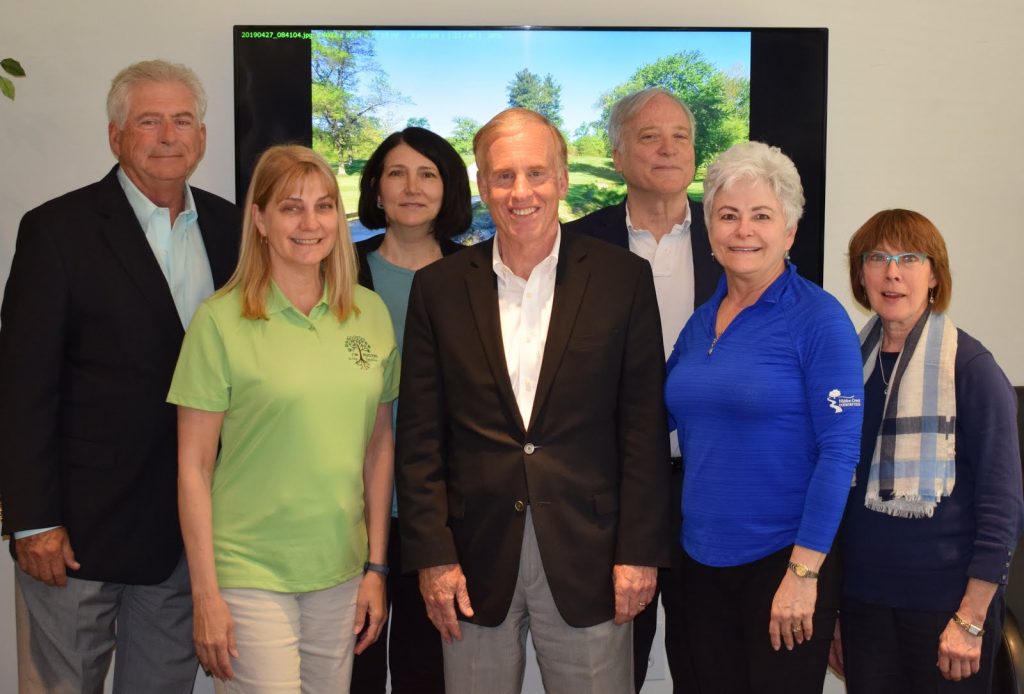 Steve Mona shared ideas for growing the game in the Reston community and offered to share important research that busts the myth that golf is a dying sport. "The golf industry impacts 2 million jobs in the U.S. and total wage income of $55.6 billion, and is larger than the performing arts and spectator sports industries. Golf facilities provide a vital community service in offering a place to recreate and socialize, serving as a hub of community social interaction. A golf course is a healthy natural environment. Nearly 15,000 U.S. golf facilities provide communities with 2 million acres of green space."
Lynne Mulston, Chair of Rescue Reston's North Course Committee, shared the rich history of golf in Reston and the importance that both golf courses play in supporting local high school golf teams from South Lakes and McLean High Schools. Ms. Mulston previously served as Coach of the South Lakes Girls' Golf Team. This August 12, Hidden Creek will host the Annual George Pavlis Memorial Golf tournament for 18-20 High School golf teams competing from Fairfax, Loudoun, Prince William, and Arlington Counties
.About National Golf Day
Coordinated by a coalition of the game's leading associations and industry partners under the banner of WE ARE GOLF, National Golf Day brings together more than 275 industry leaders from across the U.S. to support the game's $84.1 billion economy, nearly $4 billion annual charitable impact, close to 15,000 diverse businesses and two million jobs impacted.
About Reston Citizens Association
Reston Citizens Association (RCA) is the only community-wide, non-partisan, and action-oriented organization in which everyone who lives, works and plays in Reston has a voice. RCA's mission is to promote Reston's vision and planning principles and to sustain and enhance our quality of life now and in the future, by serving as a non-partisan, action-oriented organization for all Restonians. RCA serves as the umbrella organization for Rescue Reston (focused on preserving Reston's two golf course open spaces) and the Reston Accessibility Committee (partnering with businesses to improve access for persons with mobility impairments).
###
Media Inquiries: Lynne Mulston, Vice President, Reston Citizens Association (703) 662-1687