This post by RCA
President Colin Mills was originally published in Reston Patch.


Want to know what sort of changes are in store
for Reston? Come to our community meeting, where RCA, RA and ARCH will tell you
how the new Comp Plan will affect us – and how it could be better.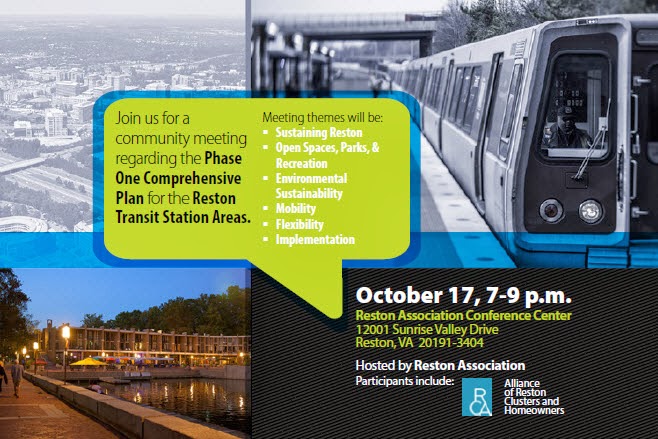 Lately, I've had plenty of opportunities to think about how
much better it is to do things together than to go it alone. As I mentioned last week, I recently got
married. From my perspective, married
life has a lot to recommend it.
It's great on a practical level – you have someone to split
the chores with – but also on an emotional level. Having someone to help celebrate your
triumphs and lighten your burdens, a trusted confidante and companion, and
someone to start and end each day with… it's all a blessing. It's great to have someone else on your team.
What's true for individuals is also true for
organizations. I've written on many
occasions about how crucial it is for our community organizations to
work
together
. And I'm happy to report
that three of Reston's leading organizations – RCA, RA, and the Association of
Reston Clusters and Homeowners (ARCH) – are working together on a key issue for
Reston's future: the draft Comprehensive Plan that's emerging from the Reston
Master Plan Task Force. Not only that,
we're holding a meeting next week to let our citizens know what the future
holds for Reston. (Keep reading for
details!)
RCA has been working very hard on the Task Force, but it has
been a long and lonely struggle at times.
As you know if you have followed our
comments
,
we believe the draft Comprehensive Plan less than ideal for Restonians in a lot
of ways. But we're only one voice on the
Task Force; there's only so much we can accomplish on our own.
Happily, we've discovered that we aren't alone. In conversations with leaders from RA and
ARCH, we've found that we have a lot of views in common. And we agreed that our voices would be
amplified if we spoke up together. So we
decided to stand up together on behalf of the citizens of Reston.
Like a good marriage, our collaboration allows us to benefit
from each organization's strength. We at
RCA bring our analytical skills and deep involvement throughout the process to
the table. RA brings its formidable
resources to the table. For instance,
they've been able to hire a land use attorney as an advisor (something we could
never afford), and they have a much larger megaphone to communicate with our
citizens. ARCH contributes its community
connections and experience in complex community issues. When we unite those strengths, it's a very
powerful combination.
Our collaboration is starting to pay off. We've agreed on a joint statement expressing
our
guiding
principles
for the Phase I Comprehensive Plan. We're working on a joint comment for the Task
Force expressing our common views on how the plan can be improved. And we're holding a
community
forum
to let Restonians know what's in the plan, how it will affect
Reston's future, and our ideas for making it better.
The forum will be on Thursday,
October 17th from 7 to 9 PM at RA headquarters. Task Force chair Patty Nicoson will be there
to talk about the work that's been done so far.
Heidi Merkel of the County's Department of Planning and Zoning will talk
about the plan from a County Perspective.
And then representatives from RA, RCA, and ARCH will share our thoughts
about the plan and how it will affect Reston's future.
We're having this meeting because we want to make sure our
citizens know what's in store for our community. But we also want to hear from you, and find
out what matters most to you, so that we can better represent the community's
interests and concerns. So we won't just
be there to speak to you; we'll also make sure you have the opportunity to make
your voice heard.
This is a really crucial meeting to attend if you're a
Restonian and you care about our community's future. The new Comprehensive Plan, and the new
development that will be built around the Silver Line, will change the face of
Reston for decades to come. It will
impact our traffic, our vitality, our environmental quality, our parks and
recreation facilities, and our future direction.
If you've been following the process closely, now is the
time to speak out and make yourself heard.
If you haven't been following it, now is the time to get informed and
involved.
I'm really glad that our three organizations are coming
together on behalf of our citizens.
We're much more powerful and effective when we speak as a united
voice. And it's particularly important
for us to join forces on the Task Force.
The developer representatives, while they don't agree on everything, have
shown themselves as a fairly united force throughout the process. They know how the game is played, they know
what they want, and they know how to get it.
The citizen representatives need to have the same unity of
purpose and resolve. Together, we can
push for a plan that builds on Bob Simon's vision and creates a community that's
ready for the future while maintaining the values and amenities that we all
love about the Reston of today.
I hope to see you at the meeting next week. And I look forward to working with RA, ARCH,
and other civic organizations to ensure that Reston's future lives up to its
past. Just like my marriage, I hope that
our organizational partnership lasts a long time, and that we're able to enjoy
a lot of success together.