This post by RCA President Colin Mills was originally published in Reston Patch.
It's a busy time for RCA! We've been engaged heavily in analysis and discussion about the RCC rec center proposal. We're looking at the Comprehensive Plan language proposed for the Master Plan Task Force. Our 20/20 Committee just put the finishing touches on its updated bus service recommendations. We're preparing for our upcoming elections. (The filing deadline for Board candidates is June 3rd, so if you want to run, fill out your form today!) There's so much activity and controversy going on that I can hardly stop to breathe some days.
Happily, though, there's still time for one of my favorite community activities: recognizing those who are working to make life in Reston better. Our Citizen of the Year ceremony is a prime example of this kind of recognition. Last week, I joined Reston Accessibility Committee chairman Ken Fredgren in honoring several Restonians who have been friends to the cause of accessibility.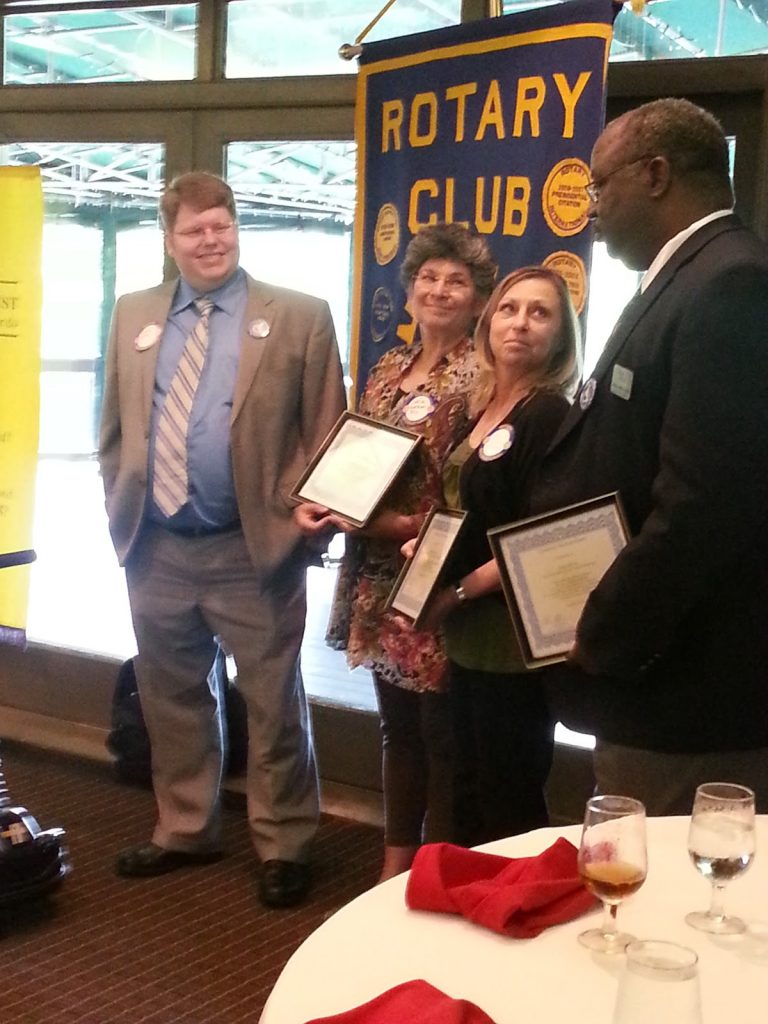 RCA President Colin Mills with 2013 Community Partner Award
winners (L – R) Leila Gordon, Sherry Witowski, and Greg White
Last month, RAC was honored by Fairfax County for its efforts to make Reston's buildings and shopping centers more accessible for people with disabilities. But as Ken will gladly tell you, RAC couldn't accomplish everything it does without help from our friends in the community. It takes a village of thoughtful volunteers to move the cause of accessibility forward.
In order to give thanks to those special volunteers, this year RAC created the Community Partner Award, which recognizes individuals who show exceptional support for RAC's disability-rights advocacy. (Previously, RAC had established the Universal Access Leadership Award to honor members of the business community who have distinguished themselves by making modifications to their premises, thus creating safe and comfortable access for all customers.)
Last Wednesday, Ken and I attended a Rotary Club luncheon to recognize three of the inaugural Community Partner Award winners. The Rotarians have kindly hosted previous presentations of the Universal Access Leadership Awards, and as Ken noted in his remarks, their slogan over "Service Above Self" dovetails nicely with RAC's mission.
The three honorees at the Rotary luncheon were as follows:
Leila Gordon, Executive Director, Reston Community Center
For her welcoming, unfailing support of Reston Accessibility Committee and all people with disabilities… by advocacy for accessible parking spaces at Hunters Woods Village Center // and // For her leadership of the Center's co-sponsorship of RCA community forums on accessibility in 2010 and 2012.
When Edens & Avant planned to revamp Hunters Woods last year, RAC was concerned about preserving the improvements it had secured from the previous owner, including additional accessible parking spaces and new crosswalks and curb ramps. Leila made the connection between RAC and Edens, and she advocated with RAC on behalf of the improvements. Edens recently completed its parking lot revamp, and the spaces, crosswalks, and curb ramps were all preserved. (The spaces were even moved closer to the shops.)
Also, Leila contributed to the success of our accessibility forums by providing a key element: refreshments! I for one was most grateful for her contribution.
Greg White, Chief Operating Officer, Reston Interfaith
For his consistent, generous support of Reston Accessibility Committee, // His advocacy for all people with disabilities // and // For his leadership of Reston Interfaith's co-sponsorship of RCA community forums on accessibility in 2010 and 2012.
Reston Interfaith is a tireless advocate on behalf of those in need, including those with disabilities. So it was no surprise that Greg and RI were enthusiastic co-sponsors of our accessibility forums. Greg provided valuable logistical and planning assistance, and he helped us get the word out and drove turnout for the forums. The events would not have been nearly as successful without Greg's help.
Sherry Witowski, Vice President and Regional Manager, United Bank
In recognition of her personal demonstration of generous hospitality to Reston Accessibility Committee… by providing a meeting room in the bank branch at Temporary Road and Reston Parkway since December, 2008.
As anyone who's ever planned an event in Reston knows, meeting space is at a premium. And free meeting space is as rare as hen's teeth. So when RAC needed a place for its committee meetings, it was a blessing that Sherry offered up space at the bank gratis. Not only has this removed a scheduling challenge from Ken's plate, it has allowed RAC to devote its budget fully to advancing the cause of accessibility.
There was one Community Partner Award that we didn't present at the Rotary lunch. That's because the award was for Reston Association CEO Milton Matthews, and RA asked us to present the award as part of the surprise farewell ceremony they held for Milton at their Thursday board meeting.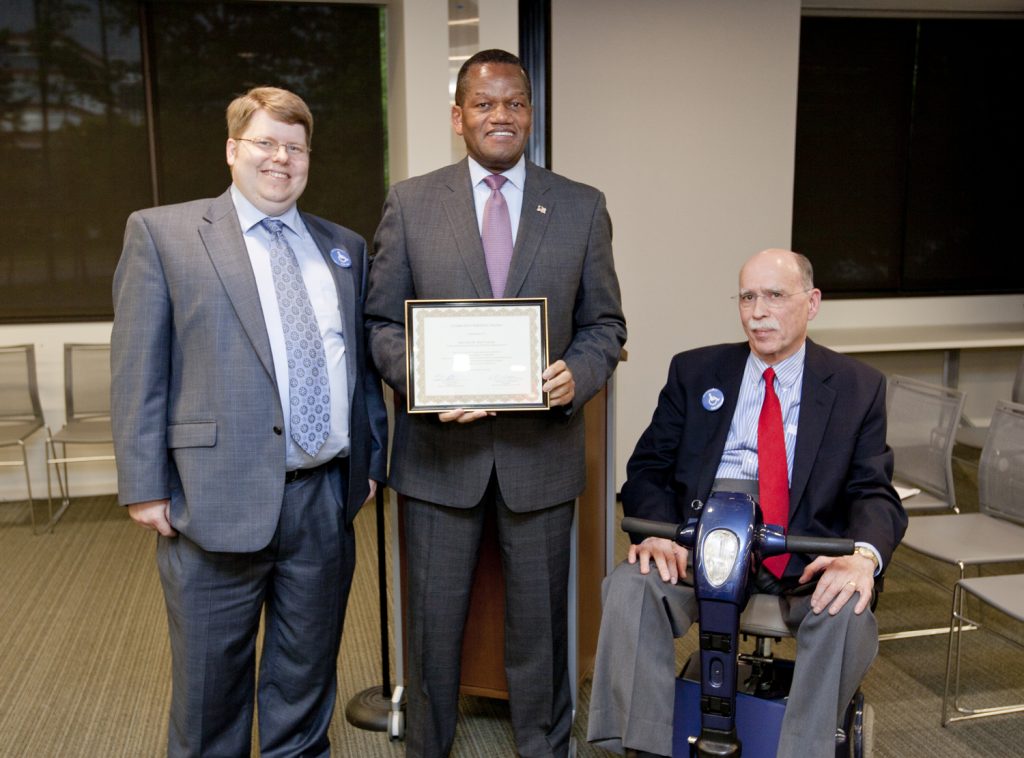 RCA President Colin Mills (L) and RAC chairman Ken Fredgren (R)
with 2013 Community Partner Award winner Milton Matthews
Happily, we were the first of many organizations offering tributes and awards to Milton that night. Here's what our certificate said:
For his outreach to and generous support of Reston Accessibility Committee, // and // for his leadership of Reston Association's co-sponsorship of RCA community forums on accessibility in 2010 and 2012.
Remember what I said about free meeting space being hard to find? Well, Milton and RA were kind enough to host both of our accessibility forums free of charge, which relieved us of an important planning burden.
But that's not all that Milton has done for RAC. I can't say it better than Ken did in his remarks: "Milton, you and your staff have been a Godsend to us. Your hallmarks of generous sharing, compassion, humility, commitment to service, professionalism, and organization have provided visibility and legitimacy for a civil rights advocacy that doesn't have the public acceptance that it should – yet."
Kudos to all four winners of the Community Partner Award. In different ways, each of them been an exemplar of community service and support of accessibility. Sharing a community with these terrific folks is just another reason I'm glad to call Reston home. And as busy as I may be, I will never be too busy to say thank you to those who help RCA and devote their time to serving Reston.